The Music I Teach...
Play music you like to listen to!
I believe that learning to play music is always more successful when you're learning to play music you like. Does that sound obvious? It does to me, too. But many people give up on music simply because they got tired of working on music that just didn't awaken any passion in them. It was boring! Music is all about passion. It lives in your heart and stirs your emotion. It can make you cry and laugh and dance and sing. To enjoy learning – and to make satisfying progress – you can concentrate on learning to play music that makes you feel great.
Actually, I have lots of reasons to teach music:
I teach many kinds of music. Just take your pick. Roughly 95% of the music on this page came in the door with my students. And if you don't see what you're looking for in this list, give me a call and maybe we'll explore something new together.
Techniques
Fingerstyle, Flatpicking, Slide, Alternate Picking, Crosspicking, Sweep picking, Hybrid picking, just strumming along. Standard and Altered Tunings, Open Tunings, Slack-Key variations, DADGAD, and High-Strung guitar…
Afro-Pop and African acoustic guitar styles
Vusi Mahlasela, Louis Mhlanga, Djelimady Tounkara, Oliver Mtukudzi, Coming soon: Habib Koite, Ali Farke Toure, Sekou Diabate, Boubacar Traore, …
Alternative/Emo/Contemporary Pop & Rock:
Red Hot Chili Peppers, O.A.R., Dispatch, Dave Matthews Band, Jack Johnson, Jason Mraz, Radiohead, Ray Lamontagne, The Shins, Counting Crows, Paulo Nutini, Sublime, Blink 182, Iron and Wine, Collective Soul, Lifehouse, Filter, Creed, 3rd Eye Blind, Jack's Mannequin, The Fray, Matisyahu, Wilco, Arctic Monkeys, Coldplay, Tool, Plain White T's, The Verve Pipe, Vertical Horizon, Death Cab for Cutie, Kings of Convenience, Elliott Smith, Lifehouse, Yellowcard, Train, Incubus, Fuel, Taking Back Sunday, Weezer, Nickelback, Rise Against, Foo Fighters, Circa Survive, Train, BNL, Pepper, Slightly Stoopid, Sufjan Stevens, Joshua Radin, Postal Service…
Americana and Songwriters
Tim O'Brien, Lyle Lovett, Pierce Pettis, Darrell Scott, Gillian Welch, Paul Simon, Bob Dylan, James Blunt, Gavin DeGraw, David Gray, Ani DiFranco, Guy Clark, Marc Broussard, Steve Goodman, Dar Williams, Lucinda Williams, Beck, John Prine, Townes Van Zandt, Laura Love, John Gorka, Gordon Lightfoot, Jesse Winchester, John Hartford, Allison Krauss, John Hiatt, Mary Chapin Carpenter, Art Garfunkel, Buddy Mondlock, Norah Jones, Patti Griffin, Don McLean, U. Utah Phillips, Robert Earl Keen, Leonard Cohen, Brooks Williams, Bruce Cockburn, Rodney Crowell, Patty Griffin, Willis Alan Ramsey, Bill Staines, Shawn Colvin, Greg Brown, Walter Hyatt, Steve Earle, Tom Waits…
Bluegrass
Doc & Merle Watson, Adam Steffey, Mountain Heart, James King Band, Bill Monroe, Ralph Stanley, Hot Rize, Ricky Skaggs, Norman Blake, Del McCoury, Seldom Scene, Norman Blake, Lonesome River Band, Country Gazette, Peter Rowan, Old & In the Way, Seldom Scene, The Carter Family, Grisman & Garcia, traditional repertoire…
Blues, Country and Acoustic Blues
Mississippi John Hurt, Bonnie Raitt, Mary Flower, Keb Mo, Eric Bibb, Yank Rachel, Reverend Gary Davis, Geeshie Wiley, Kelly Joe Phelps, Elizabeth Cotton, Cephas & Wiggins, Kelly Joe Phelps, Mance Lipscomb, Blind Boy Fuller, Blind Blake, Skip James, Ishman Bracey, Lightnin' Hopkins, Honeyboy Edwards, Josh White, Lonnie Johnson, Leadbelly, John Jackson, Steve James, Joseph Spence, Big Bill Broonzy, Henry Thomas, Guy Davis, Etta Baker, Alvin Youngblood Hart, Taj Mahal…
Blues, Electric
Buddy Guy, Eric Clapton, BB King, John Mayer, Derek Trucks, Stevie Ray Vaughan, Muddy Waters, Hubert Sumlin, Freddy King, Albert King, Elmore James, Clarence Gatemouth Brown, Amos Garrett, Johnny Lang, Johnny Young, Howlin' Wolf, Johnny Winter, Magic Sam, Jimmy Reed, T-Bone Walker…
Bossa Nova
Tom Jobim, Luis Bonfa, Rosa Passos, Joao Bosco…
Celtic
Patrick Street, Liz Carroll, Kevin Burke, The Battlefield Band, Andy Irvine and Paul Brady, The Bothy Band, De Danann, Clannad, O'Carolan, John Doyle, Solas, Dougie MacClean, traditional repertoire…
Classical Mandolin
Bach, Beethoven, Calace, Vivaldi, Bartok…
Choro
Jacob do Bandolim, Ernesto Nazareth, Chiquinha Gonzaga, Pixinghinha, Joel Nascimento, Deo Rian…more
Contra Dance and Quebecois
Jay Ungar and Molly Mason, Randy Miller, Rodney Miller, Andre Marchand, Bill Spence, Fennig's All Stars, Pete Sutherland, Grey Larsen, Malcolm Daglish, John McCutcheon, La Bottine Souriante, Phillipe Bruneau, Great Big Sea, Guy Bouchard…traditional and contemporary repertoire and "crooked tunes"…
Christian Country, Pop and Rock
Jars of Clay, Newsboys, Amy Grant, Derek Webb, Chris Rice, Switchfoot, Simple Plan, Third Day, Mercy Me, Jeremy Camp, Casting Crowns, Barlow Girl, Rush of Fools, Matthew West, Kutless, Selah, Chris Tomlin, Reliant K, Bebo Norman, Barlow Girl, Jeremy Camp….
Country
Gram Parsons, Emmy Lou Harris, Ryan Adams, George Strait, Hank Williams, Johnny Cash, Buddy and Julie Miller, Willie Nelson, Sons of the Pioneers, Hank Snow, Rascal Flatts, Dixie Chicks, Keith Urban, Alan Jackson, Tim McGraw, Vince Gill, Jerry Reed, Albert Lee, Shelby Lynne. Allison Moorer, Brad Paisley, Dierks Bentley, The Nitty Gritty Dirt Band, Alabama, Don Williams, Hank Snow, Marty Robbins, Jimmie Rodgers, Uncle Tupelo, Roy Acuff, Amy Grant, Carl Jackson, Keith Whitley, Sara Evans…
Country Swing
Asleep at the Wheel, Bob Wills and the Texas Playboys, The Farr Brothers, Tiny Moore, Johnny Gimble, Eldon Shamblin, Red Knuckles and the Trailblazers…
Fingersyle Guitar
James Taylor, Joni Mitchell, Pat Donohue, Tommy Emmanuel, Chet Atkins, Ed Gerhard, Bruce Cockburn, Doc & Merle Watson, Keola Beamer, Patty Larkin, David Wilcox, Pat Kirtley, Nick Drake, Gabby Pahinui, John Martyn, Leo Kottke, Andy McGee, Jorma Kaukonen, Richard Thompson, Brooks Williams, John Renbourn, Eileen Niehouse and Pierre Bensusan…
Folk
Judy Collins, Amos Lee, Peter, Paul and Mary, Jody, Stecher & Kate Brislin, Ian Tyson, Si Kahn, Tish Hinojosa, Joan Baez, Mary McCaslin, The Roche Sisters, Priscilla Herdman, Kate and Anna McGarrigle, Loudon Wainwright III, Rosalie Sorrels, Fred Small, Eva Cassidy, Karla Bonoff, Kate Wolf, John Denver, Tom Rush, John Prine, Gordon Lightfoot, Linda Ronstadt, …
Jazz and Bebop
The Great American Songbook…John Coltrane, Charlie Parker, Clifford Brown, Duke Ellington, Miles Davis, Horace Silver, Joe Henderson, Sonny Rollins, Count Basie, Thelonious Monk,Clifford Brown, Horace Silver, Freddy Hubbard, Mike Stern, Oscar Moore, Charlie Christian, Wes Montgomery, Jethro Burns, David Grisman...
Newgrass and New Acoustic
Sam Bush, Mike Marshall, Chris Thile, Nickel Creek, Matt Flinner, Ben Winship, String Cheese Incident, Peter Rowan, Tony Furtado, The Duhks, Infamous Stringdusters…
Musette
Colombo & Murena, Jo Privat, et all...
Old-Time
Tommy Jarrell, Highwoods Stringband, Fuzzy Mountain String Band, Mando Mafia, T78he Horse Flies,traditional repertoire…
Rhythm & Blues
Jon Cleary, Clarence Carter, Stevie Wonder, Al Green, Dobie Gray, Ray Charles, Johnny Adams, Nappy Brown, The Holmes Brothers, Tommy Simms, the subdudes, The Meters, Doc Pomus, The Neville Brothers, Allen Toussaint, Steve Cropper, Otis Redding, Wayne Bennett (Bobby Blue Bland), Charles Brown, Marvin Gaye, Charles Brown, Johnny Moore, Irma Thomas, Booker T. & the MGs, William Bell, W.C. Clark, Marie Knight, Dan Penn, Joe Turner, Walter "Wolfman" Washington, Marva Wright, O.V. Wright, Howard Tate, Ben E. King, Bobby Evans, and Terry King…
Rock
The Beatles, Ry Cooder, Bonnie Raitt, Mark Knopfler, The Iguanas, Santana, Eric Clapton, Led Zeppelin, k.d. lang, Los Lobos, Pink Floyd, Traffic, Steve Winwood, Jesse Colin Young, Poco, U-2, George Harrison, Elvis Costello, the Eagles, The Police, The Amazing Rhythm Aces, Jimi Hendrix, Lynard Skynard, Bo Diddley, Chuck Berry, Carl Perkins, The Who, Bruce Springsteen, Elvis Presley, The Rolling Stones, Moody Blues, Cream, Dire Straits, The Byrds, Blondie Chaplin, Lefte Bank, Randall Bramblett, Traffic, Crowded House, Elvis Costello, Bruce Hornsby, Steven Bruton, Peter Frampton, Steely Dan…
The Band, The Doobie Brothers, Little Feat, The Marshall Tucker Band, Pure Prairie League, Jethro Tull, Steve Miller Band, Daniel Lanois, Melissa Etheridge, Pearl Jam, Oasis, Jackson Browne, Crosby, Stills, Nash and Young, The Beach Boys, The Ventures, The Allman Brothers, Derek and the Dominoes, Neil Young and Crazy Horse, Kim Carnes, Savoy Brown, ACDC, Boston, Los Lonely Boys…
Elton John, Blind Faith, Loggins and Messina, The Freddy Jones Band, Jim Croce, Buffalo Springfield, Ten Years After, Van Halen, Bon Jovi, Eddie Vedder, The Grateful Dead, Leon Redbone, Jesse Colin Young, The Mamas and the Papas, Fleetwood Mac, Jefferson Airplane, Tom Petty, Indigo Girls, Jimmy Buffett, Johnny A…
Reggae
Bob Marley, Jimmy Cliff, Burning Spear, Toots and the Maytals, Peter Tosh, The Fugees, Third World, Groundation, The Wailers…
Swing
Tiny Grimes, Wayne Wright, Ophelia Swing Band, Squirrel Nut Zippers, Louis Jordon, Henry "Red" Allen, Jr., Stuff Smith, The Cats and the Fiddle, Cab Calloway…
Coming soon:
A few styles that have been percolating, but are coming off the stove…

Konokol, Gyspy Jazz
What I Don't Teach
Classical and Flamenco guitar, Kora, Grunge and Thrash metal, (well, not yet, anyway)...
"The best way of getting to know any bunch of people is to go and listen to their music.
—Woody Guthrie, American folksinger and songwriter, (1912-1967)
"Imagination and creativity are free."
—Louis Mlhanga, African guitarist
"My essential purpose in singing is to help the listener understand reality."
—Pete Seeger
"Piedmont blues has a ragtime influence," Blues guitarist John Cephas explains, "Mississippi Delta Blues has more single string, harsh progressions, whereas the Piedmont style has a richer, more full-bodied melodious sound. It features a multitude of strings, just a ringing out of the guitar." For examples of the Piedmont style, he recommends listening to Reverend Gary Davis and Blind Boy Fuller."
—from "Blues Guitar, The Men Who Made the Music," Edited by Jas Obrecht.
"I'd like to know that when I sing a song, I can let you know all about the heartbreak, struggle, lies and kicks in the ass I've gotten over the years for being black and everything else, without having to say a word about it."
—Ray Charles
"When you play from your heart, all of a sudden, there's no gravity. You don't feel the weight of the world, of bills, or anything. That's why people love it. Your so-called insurmountable problems disappear, and instead of problems you get possibilities."
—Carlos Santana, electric guitar virtuoso
"And I surely want to thank the cats for what they played and what they didn't..."
— James Taylor, from the liner notes of "Covers".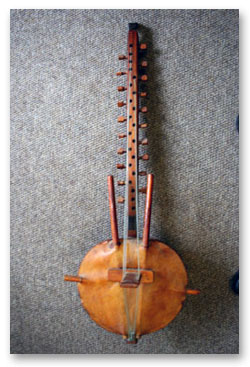 The Kora is a common African instrument, especially in Mali and neighboring countries. It sounds like a combination of a harp and a lute. "New Ancient Strings," by Ballake Sissoko and Toumani Diabate, is one of my favorite kora albums.
"Without music to decorate it, time is just a bunch of boring production deadlines or dates by which bills must be paid."
—Frank Zappa