What and Who I Teach…
Everyone can learn to play and enjoy music!
Teaching music is one of my passions in life, and I love sharing music with students of all ages and abilities! My students have included five year-olds and 73 year-olds. Beginners and virtuosi. Professional music teachers and the children of music teachers. Closet musicians and jammer wannabes. People who knew they had talent and others who thought they were tone deaf. (They weren't!) Young kids just starting school and adults who have retired and are finally have the time to fulfill a lifelong dream.
The thrill of playing music – of expressing yourself musically and entertaining your friends – isn't just for professional musicians and others who are "born with musical talent." It's for everyone.
If you have the desire and a little time to devote to music you like (not just scales and exercises), you can do it, too.
Let me show you how.
What instrument would you like to play?
I teach acoustic guitar, electric guitar, acoustic mandolin, electric mandolin (4- and 5-string), papoose guitar and high-strung guitar. I teach many playing techniques, standard and altered tunings and a multitude of musical styles.
If you're eager to learn to play mandola, bouzouki, baritone ukulele or tenor guitar, I can help you get started there, too.
Let's talk about music and what you'd like to learn.
Music is an important part of life. We all have musical memories, and many of us have musical dreams. My dream is playing music of all kinds and sharing what I know and love with others – and my dream is progressing constantly.
When you close your eyes and imagine yourself playing music, what do you see? I'd like to help make your musical dream come true, too.
What's your musical dream?
"It's never too late to be who you might have been..."
— George Eliot, English novelist, 1819 - 1880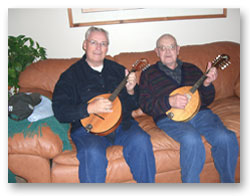 "Old RC" with his Uncle Chuck Baldwin, of New Boston, IL
"...Dreams...That's what it's all about - dreams. Without that, there's nothing."
—Ruby Braff, American jazz coronetist